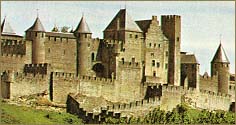 Here's the "official document" mentioned above:

A contemporary account of Richard and King Philip of France:
"They ate every day at the same table and from the same dish, and at night their beds did not separate them. And the king of France loved him as his own soul; and they loved each other so much that the king of England [Henry II, Richard's father] was absolutely astonished at the passionate love between them and marveled at it."
Historians like Gillingham seem to believe that Richard & Philip sharing a bed was mere politics. If that's true, how come Richard's father was "absolutley astonished" and "marveled at it"? The author of the account is Roger of Hoveden, who served in the courts and entourages of all three kings, Henry, Richard, and Philip. His style is called rigorously impersonal (on Wikipedia). He doesn't describe the affair as "politics" but as "passionate love". What part of "passionate love" does Gillingham not understand? His claim of mere business-as-usual politics fails, and I'd venture to say he's just another historian who can't stand the thought of Richard being gay, even when a contemporary account indicates otherwise. (You wouldn't believe how many indignant Greek people write me about how Alexander the Great was not gay. Same thing here.) I'm particularly disappointed in Encyclpopedia Britannica for caving before this incredibly weak argument.
LAST WORD: Encyclopedia Britannica says the evidence of Richard Lionheart's homosexuality "seems persuasive". I agree.